France / Belgium / Luxembourg Junior High School Trip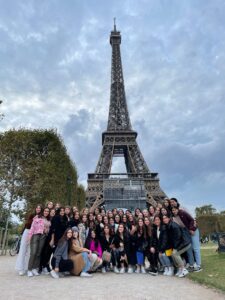 The Junior High School girls started their October trip! The first stop was Paris, where they visited the Eiffel Tower, the world-famous symbol of Paris and had dinner in one of the many restaurants near the Champs-de-Mars. 
They visited too the  Sainte Chapel, wonderful example of Gothic art. They also discovered the facade of Notre-Dame and the Ile de la Cité.
Transfered by bus they  discovered the most beautiful avenue in the world: Les Champs-Elysées. Free dinner and then a boat ride on the Seine. 
They visited the Louvre Museum, without neglecting the most famous of its treasures: the Mona Lisa by Leonardo da Vinci. 
And went to the mountain of martyrs: Montmartre. They visited the Basilica of the Sacred Heart where the Blessed Sacrament is worshiped continuously for more than 140 years. We will discover Place du Tertre and its artists. 
Versailles
 They went to the Château de Versailles and gardens and had a bike ride in the park of the castle . The next day they  spent the day in  Disneyland Paris.
Belgium
When the girls arrived , they had their tour of the city and discovered  the Grande Place with its facades decorated by the powerful merchant corporations. They went to Bruges, 'The Venice of the North'.Guided tour in the old town under the theme of myths and legends. 
They also went to Luxembourg and visited of the capital of the Grand Duché. On the next day they spent the day at Europa Park, magnificent amusement park located in Germany.   
The last stop was the city of Strasbourg with its medieval streets, its half- timbered houses and its magnificent cathedral.